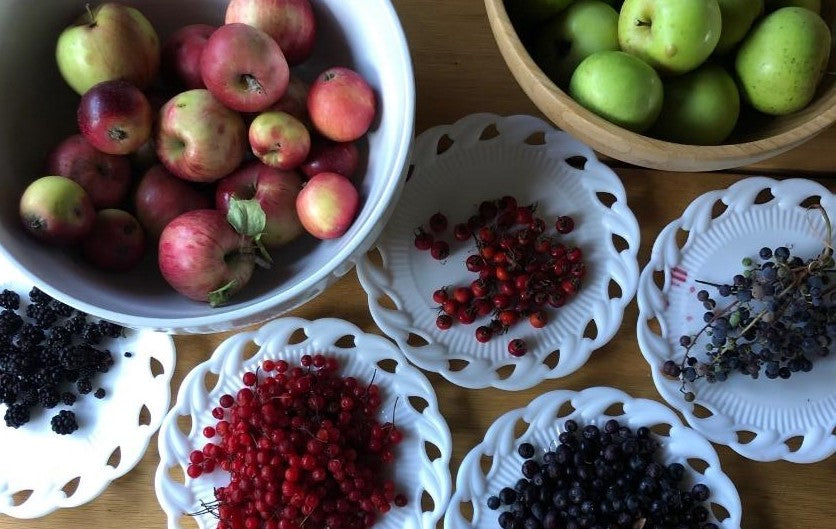 Fall Foraging
I don't know why or even when it started for me. Foraging. There is a reference in an early story my mother wrote of me, leaving at dawn, and coming home with my own handful of raspberries for my cheerios.  So at least, most of my walking life. There are also stories of me helping myself to feed corn, which I gathered from a nearby farm and filled to the brim of my little red ryder wagon and sold around our neighborhood, but that is another story….
I found myself scanning fields, and roadside for a treat. Almost always berries. Something about plump juicy berries just wanting to be eaten. A gift. From both heaven and earth. First the typical berries, (by season; strawberries, raspberries, blueberries, blackberries and grapes.) then the expanded version, rosehips, wintergreen berries, feral apples and high bush cranberries. And I have spent years following the days and the weather showing more patience than I thought I had, exploring, searching, and collecting these gifts worth more to me than gold.
Shown above: assorted apples from 4 trees, blackberries, blueberries, high bush cranberries, rosehips and grapes. Found on October 6th 2019 in northern Michigan and carefully preserved to be used at home in St. Louis. Mo. 
 This fall season, was more fruitful than expected.  The Hustle and bustle of summer was done. The summer folk had gone home and left the national lakeshore to the locals and weekend warriors. This is my favorite time of year here. I cannot tell a lie. Its cool and grey. And I like it.
This year, I decided to see what was left in the forest and fields in early October. And I was blown away. In our national land where I was for a week of cottage clean up and closure for the season. Although my childhood home, this is now my "other Home" I knew that a few of these should be ready but some were total surprises.  I expected to find these heirloom apples. But was unaware of how different these could be from one and the next. These are both abandoned orchard apples and my favorite, feral apples. (those which are from seed or left, and really a mystery. You never know from where these seeds came.) and in the most unexpected and beautiful locations like the shores of Lake Michigan, self-sowed, In the national lakeshore, these have been either untouched and left to be for 50 years. And you can collect a gallon per day. Really? wow. Some are tiny and tart, some sweet some crisp. with a few imperfections visually the flavors are expansive and diverse. begging to be baked goods or cider.  
The biggest surprise was the number of blueberries and blackberries so late in the season, these easily become a compote for pancakes, ice cream, or shortcakes. The highbush cranberries and rose hip need a bit more work to become a delicious jam or syrup. And the grapes? well I just ate them! While some use the wild concords to make a sourdough starter due to their high-quality yeast on the skins but some say, grape yeast for wine, and grain yeast for bread, I won't take a stand here. 
Days at home and work can be long and hard. And personally, getting out in the woods or fields or beaches can lighten the load, give inspiration and balance the soul.  Add a bit of exercise and a hobby kid's like? I think for me, it's a heartfelt win. 
 Keep a calendar and a map of your spots. you can even drop a pin on your phone, and always, keep a filed guide close and ask others to confirm your find.