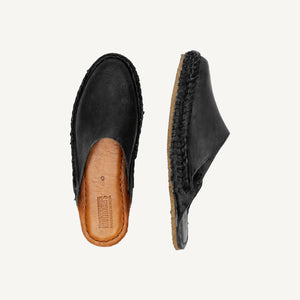 Soft Slide - Charcoal
The fanciest Mohinders, in matte black. The naturally dyed charcoal is colorfast, which means it won't rub off on your feet, and stays dark over time. Each pair is dyed-by-hand, so natural variation in color tone is to be expected.
Each pair is made by master shoemakers in the shoes' town of origin: Athani, India. The leather keeps getting softer, richer, and custom-formed to your foot the more you wear them.
Order your true size. Size up if you're a half size.
It's ok if your foot is very close to the back edge when they're brand new, as long as your heel isn't hanging over. They'll stretch and soften to make more room the more you wear and break them in.
At first, your shoes may feel stiff or too tight. The break-in is a sign of quality shoes and handmade leather.