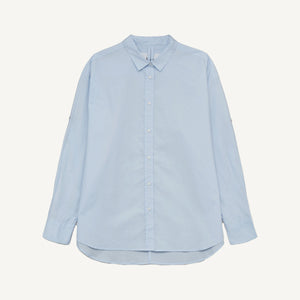 Boyfriend Shirt - Blue Eyes
The AIAYU shirt is an instant wardrobe classic. Made from crisp organic cotton poplin, this customer favourite has a relaxed look with lots of volume. The shirt has thoughtful details like a curved hemline that is slightly longer in the back, classic cuffs, and a button-up strap on the sleeves - perfect for rolling your sleeves up or down, according to the seasons and your mood.
The SHIRT has a very oversized and voluminous cut, and we recommend either choosing your regular size or sizing down for a slimmer fit.  
100% organic Chetna cotton, GOTS-certified, locally sourced & refined in India on a BSCI-certified facility, ensuring a high level of social responsibility and environmental management.
Chetna is a non-profit programme which helps farmers earn better incomes through sustainable agriculture. Chetna practices agroecological farming, which goes 'beyond organic' to improve local ecosystems.
Aiayu recommends 30 – 40 degrees using environment-friendly soap, no bleach, air-dry, and no or low iron.
Washing is hard on your textiles and on the environment. Washing on low temperature is a great way to save resources.
Avoid tumble dry, air-dry your garment for a fresh look and feeling.